Tue., Dec. 4, 2012, 1:13 p.m.
Hired Hands Back Coal Trains
The line of people forming at the Spokane County Fairgrounds this morning constituted a small sea of green.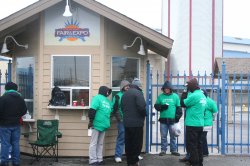 About 20 of the people — waiting to get into the public hearing concerning the proposed increase of coal trains coming through Spokane — wore bright green shirts that read "Let's Get Back To Work!" They already were, in a way. Pro-coal groups had hired the people to stand in Tuesday morning's wind and rain to serve as placeholders. "I want a job," says Milly, a Spokane resident who declined to give her last name. Milly told The Inlander she's getting paid minimum wage to stand out in the wind and rain for "as long as they need us." In prior jobs for Labor Ready, Milly says she's done in-home care and housekeeping and worked at a plastics factory/Joe O'Sullivan, Inlander. More here. (Photo: Inlander)
Question: Are you on the coal train?
---
---