Thu., Dec. 6, 2012, 11:06 a.m.
Mom Of Abandoned Kids To Plead
The mother who abandoned her two young children along Interstate 90 in late October is expected to plead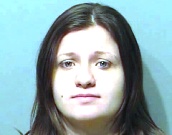 guilty to a charge related to the Oct. 30 incident. Shannon Duval, 27, of Spokane Valley, waived a preliminary hearing in the case for a plea offer from prosecutors. Duval's attorney confirmed she will plead guilty in district court to one of the original charges she's facing. Duval was charged with two counts of felony injury to a child after she was arrested in Spokane County and extradited back to Kootenai County in the wake of the Oct. 30 incident/Rob Kauder, KXLY. More here.
---
---