TUESDAY, DEC. 11, 2012, 8:33 A.M.
Depression Gets Lost In Aging Process
The cantankerous old man in your life might actually be a man who's contemplating suicide. The forgetful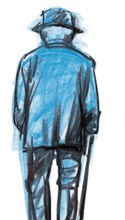 widower next door may not be suffering from early Alzheimer's, but from major depression. For seniors – who have the highest suicide rates in the nation – depression often manifests itself "atypically." While a younger person with depression might be sad and withdrawn, as frequently portrayed in TV ads, an older person with depression might be verbally aggressive or exhibiting signs of dementia. Those and other symptoms suffered by seniors can be difficult to recognize, as sufferers, relatives or care providers blame symptoms on the aging process. And depression often goes untreated among populations struggling with major losses – of loved ones, of the jobs and careers that defined them, of physical independence/Adrian Rogers, SR. More here. (AP file illustration)
Question: Do you think depression is an inevitable part of old age?
---
---