Tue., Dec. 11, 2012, 9:21 a.m.
Hall: Skin Matters For Musicians
A musical young friend of mine, who is honing his tuneful talent, showed me a design for the tattoo he intends to add to his own personal body for an extra boost up the ladder of fame. While I have my doubts about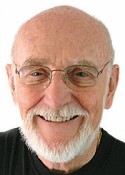 permanent pictures painted on the walls of my house or on the skin of my body, a part of me understands the urge to adorn yourself in ways that attract attention - especially when you're going into a line of work that involves seeking attention. Decoration is often a part of the package in showboat jobs like writing, acting and music. I remember a time when, having chosen writing as how I wanted to earn a living, I mistakenly assumed that appearance looms large in the needs of a professional writer. I let my hair lengthen and made a few feeble attempts at growing a beard. Writers like Ernest Hemingway grew beards so I assumed I would need a beard if I wanted to become a writer/Bill Hall, Lewiston Tribune. More here.
Question: Do you wished you hadn't gotten that tat you're now wearing?
---
---