Wed., Dec. 12, 2012, 8:11 a.m.
Assessor Appeals BOE Assessment
Tuesday marked an unusual occurrence for Kootenai County, when the Idaho Board of Tax Appeals held a hearing where the county Assessor's Office appealed a property assessment. That is, the Assessor's Office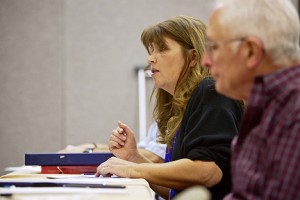 appealed a decision the county commissioners made this summer -- when they convened as the Board of Equalization -- to reduce a citizen's assessed property value. The commissioners convene as the BOE every year to hear county citizens' appeals of their property value assessments.This year, the Assessor's Office only appealed two of the BOE's decisions to the state. Not bad, considering the BOE deliberated on more than 100 property assessment appeals this summer. ... At the hearing on Tuesday afternoon, the Assessor's Office challenged the BOE's decision to lower Marty Krupitsky's assessed property value for his Parkside Tower condo from $612,000 to $565,000/Alecia Warren, Coeur d'Alene Press. More here. (Jerome A. Pollos Coeur d'Alene Press photo: Donna Hoppe, with the Kootenai County Assessor's Office, discusses the steps taken to appraise Marty Krupitsky's home in Coeur d'Alene)
Question: Have you ever appealed a property tax assessment?
---
---