Wed., Dec. 12, 2012, 5:04 p.m.
New Brewing Company Fills CdA Void
For Matt Morrow (pictured), it's like Christmas in … well, December. Morrow had hoped to have his Trickster's Brewing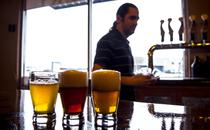 Co. in Coeur d'Alene up and running by July, if not sooner. But license and permit delays kept pushing the date back. When Trickster's finally opened its doors Dec. 1, the Lake City welcomed its first brewery since Coeur d'Alene Brewing closed two years ago. "It's been a long 12 months," Morrow said. "I wanted to walk away more than a couple of times, but I had so much into it. I was past the point of no return a long time ago." Morrow, 27, grew up in Tulsa but relocated to Colorado, where he discovered the two loves of his life: his wife, Emily, and brewing beer/Rick Bonino, SR. More here. (SR photo: Kathy Plonka)
Question: Are you ready for a new Coeur d'Alene brewing company?
---
---