Thu., Dec. 13, 2012, 10:30 a.m.
City To Get 29 Acres Of BLM Land
While the details have shifted, the big picture remains the same. The only question left to answer may be what the best use of the land would be. On one condition: The 29 acres stretching from Memorial Field to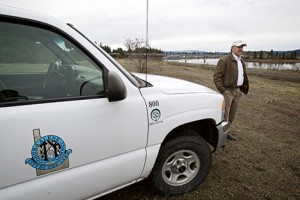 Riverstone, must be preserved for public space. "You could have soccer fields out here," said Doug Eastwood, parks director, as he toured the land Tuesday and began brainstorming on what could one day develop on the stretch between Riverstone and City Park. "You could have just about anything." First things first. After years of planning with several different agencies, the city of Coeur d'Alene is ready to gain control of the parcel, which was once old railroad line running west of Northwest Boulevard and through the education corridor/Tom Hasslinger, Coeur d'Alene Press. More here. (Jerome A. Pollos' photo: Doug Eastwood surveying BNSF land that will become part of city parks system)
Question: Can we all agree that this is a good deal for Coeur d'Alene?
---
---