Thu., Dec. 13, 2012, 3:58 p.m.
JeanS: Santa Photo Meltdowns
My one regret as a parent (Oh, ok, I have a gazillion regrets, but this one particular one wasn't my fault!), and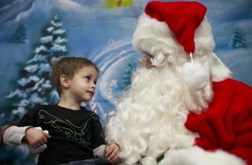 that is that my two sons never got their picture taken with Santa. We tried but failed miserably. It happened that my first son was born on the 10th of December – a little too young for a picture with Santa, mainly because as a new mother, I was NOT going to let just anyone hold my brand new baby. Not even a jolly old saint of a man, wearing red pajamas and ho-hoing loudly, giggling his large belly. No way. We settled for dressing the baby in a Santa outfit and placing him under the tree for endless adorable pictures/JeanieS, Community Comment. More here. (AP photo for illustrative purposes)
Question: Were your kids able to handle taking photos with Santa Claus?
---
---