Thu., Dec. 13, 2012, 8:19 a.m.
McMillan Files Disclosure Report
At 1 minute to 5 p.m. today Boise time, the Idaho Secretary of State's office reported that Rep. Shannon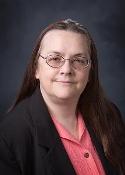 McMillan (pictured), R-Silverton, had filed her campaign finance report; up to that point, she was the only incumbent lawmaker who hadn't filed. The deadline was Dec. 6. By getting the report in now, she avoids possible $50-a-day fines. In other news from North Idaho lawmakers' and candidates' latest finance reports, the candidate who ended the election cycle with the biggest campaign debt in North Idaho is new Rep. Thyra Stevenson, R-Lewiston, who reported $21,000 in campaign debt to herself at the close of the reporting period. ... The third-highest campaign debt reported in North Idaho, in districts 1 through 7, belongs to new Rep. Ed Morse, though the $10,000 debt is a holdover from his hard-fought primary race, in which he defeated then-Rep. Phil Hart, R-Athol/Betsy Russell, Eye on Boise. More here.
Question: Is it a small matter to you whether a candidate files his/her campaign finance report on time?
---
---