Thu., Dec. 13, 2012, 1:29 p.m.
Parmesan Crusted Chicken Breasts
This is easy, something a person with a broken ankle like myself, can manage to cook. Just throw in some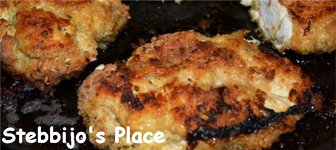 flour, bread crumbs, grated Parmesan cheese, a little dried basil and poultry seasoning, and shake the goods until well coated, then dip into a couple of mixed up eggs and shake it again for a nice crispy crust. Bake for about 50-60 minutes at 400 degrees. This homemade shake and bake is a winner. I drizzled olive oil on the pan and turned the chicken breasts at 20 minutes. They were nice sized. Here is a recipe, I used, but added flour. It just holds better, along with the egg. I also used store bought bread crumbs. Okay, my take on this is nothing like the recipe, but you get the idea/Stebbijo/Stebbijo's Place. More here. (Photo: Stebbijo's Place)
Question: Which way do you prefer your chicken dinner to be prepared?
---
---