Fri., Dec. 14, 2012, 4:28 p.m.
'Heartsick'
Heartsick. That's the one word I keep coming back to today, since no other word seems to apply. When so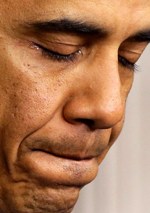 many lives – including so many young lives, cut so tragically short – are lost in a hail of senseless violence, our language falls short on adjectives. Heartsick, then, it is. Heartsick for the victims. Especially the youngest victims. Twenty students. Shot dead in a grade school. When the facts are so unfathomable, is it a wonder our language proves inadequate? Heartsick for the mothers and fathers -- who will now endure an unending nightmare that, as a parent, I cannot even imagine. Heartsick for the children who survived – and were told, as they were escorted out of Sandy Hook Elementary School, to close their eyes to the violence that had unfolded around them. If only it could be so easily forgotten/Kevin Richert, Idaho Statesman. More here. (AP photo)
Question: I can't think of a better word that "heartsick" to explain my reaction to today's senseless tragedy. Can you?
---
---