Fri., Dec. 14, 2012, 9 a.m.
Stebbi: Tough Call On Tent Cities
Stebbijo: It's a tough call about tent cities. I don't think that the bridge overpass in downtown Spokane) should be encouraged as an accepted spot for the homeless. It is an eyesore and is a problem whenever you get off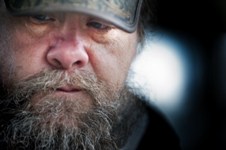 the highway to enter Spokane. It's not the best greeting to represent the area and must be a huge issue for business. Who want's to shop down there? Ick. Just going to the medical offices and hospital in the area is like working your way through a slum. You don't feel safe. My husband is not nearly as sympathetic as I am. He says, pick them up, put them in the car, take them to the county line, and tell them to keep walking because that puts them out of business. I don't think that solves the problem because I don't believe that most folks decide to grow up and become homeless but I do recognize that there are some who like and exploit the lifestyle. (SR photo)
Question: Would you want city officials and police to allow a tent city in a Kootenai County community?
---
---