Tue., Dec. 18, 2012, 1:16 p.m.
Feds To Review Caribou Status
"Maybe you got a point there," the U.S. Fish and Wildlife Service seemed to say today as it annouced its response to a petition questioning whether the Southern Selkirk Mountains Population of Woodland Caribou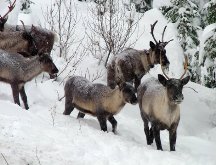 deserves status as an endangered species. The petition to remove the rarest mammal to venture into the USA from Endangered Species Act protection was filed in May, 2012, by the Pacific Legal Foundation (representing Bonner County, Idaho), and the Idaho State Snowmobile Association. The southern Selkirk Mountains woodland caribou was protected under the ESA in 1983 as an endangered species stemming from the threats posed by poaching, habitat loss due to timber harvest and wildfire, motor vehicle collisions and genetic problems through inbreeding. It occupies high-mountain habitat in the Selkirk Mountains of northern Idaho and northeastern Washington and southern British Columbia/Rich Landers, SR Outdoors. More here.
Question: Should woodland caribou of Southern Selkirk Mountains continue to be an endangered species?
---
---