Tue., Dec. 18, 2012, 5 p.m.
OtisG: For The Love Of Guns
Most of my friends growing up had guns. I lived in North Idaho, after all. I remember going to see buddies at Post Falls High School, and several of the trucks in the parking lot had hunting rifles in the back window. I even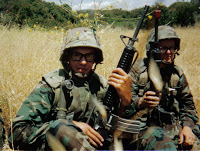 remember a teacher wanting to check one of the guns out, so he had the student bring it into the school. And the time someone brought their gun to class as part of a project they were working on. It was all so innocent.My Dad wasn't a hunter. He was a microbiologist. We didn't go tromping around in the woods, except to get firewood. And we didn't have guns. When I went to Marine Corps boot camp, people were amazed by the fact that I was from North Idaho -- and had never shot a gun. It seemed like most of the guys there grew up hunting, and playing football. I played trombone in the pep band. Trust me, I often wondered how I ended up joining the Marines myself/Otis G, Otis G's Experience. More here.
Question: Did you grow up around guns?
---
---