Tue., Dec. 18, 2012, 8:46 a.m.
Vick Brings Hammer, Needs Wrench
If anybody has an upside-down, inside-out and backwards view of recent Idaho history, it's got to be state Sen.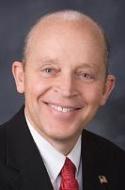 Steve Vick, pictured. The two-term Dalton Gardens Republican insists Idahoans need protection from tax increases. He wants a constitutional amendment requiring any new tax to win a two-thirds vote in the Idaho House and state Senate. Who is he kidding? This isn't California or Washington, where Democrats control the governor's offices and the legislatures - fertile ground for people such as Washington initiative entrepreneur Tim Eyman to argue blocking the democratic pulse of majority rule is needed to prevent higher taxes. This is Idaho, a place so Republican its state colors alternate between maroon and crimson/Marty Trillhaase, Lewiston Tribune. More here.
Question: Does Idaho need a constitutilonal amendment requiring a two-thirds vote of the Idaho Legislature for raising taxes?
---
---