Wed., Dec. 19, 2012, 8:49 a.m.
Buyers Rush To Firearms Dealers
Sam Bishop stood Tuesday at the counter of Sharp Shooting Indoor Range and Gun Shop. He was looking at a gun for home security while he felt he still could, he said. "I want to be just one step ahead of everybody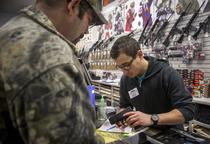 else," said Bishop, who was checking out the Spokane gun store's selection of pistols. "I don't want to come in here to get something left over that nobody wants." Bishop isn't the only buyer rushing to a nearby firearms dealer. Spokane gun stores are reporting increased sales since the Newtown, Conn., school massacre Friday, which has sparked talk in Congress of potential gun control legislation. Sales already appeared to be up in 2012 before the latest tragedy. The FBI, which operates the National Instant Criminal Background Check System, reports record gun background checks for the year/Kaitlin Gillespie, SR. More here. (Colin Mulvany SR photo: Sam Bishop, left, purchases a Springfield XD 40 handgun from salesman Nick Brown on Tuesday at Sharp Shooting Indoor Range and Gun Shop)
Thoughts?
---
---