WEDNESDAY, DEC. 19, 2012, 8:29 A.M.
Mom Who Left Kids Near I-90 To Plea
The mother who allegedly abandoned two children in the dark and rain near Interstate 90 and the Idaho-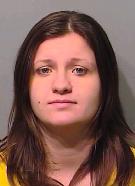 Washington state line is scheduled to plead guilty to a felony charge, her defense attorney said Tuesday. Shannon M. Duval, 28, of Spokane, was charged in Kootenai County with two counts of felony injury to children stemming from the late October incident. She is scheduled to plead guilty to a single count in exchange for a recommendation for probation from the Kootenai County prosecutor's office, defense attorney Larry Purviance said. He said that plea hearing is scheduled for next month. She currently is in custody, he said. Duval, who also uses the last name Germanton, waived her preliminary hearing in the case and was bound over to 1st District Court. Judge Benjamin Simpson was assigned the case. According to charging documents, Duval abandoned her 3- and 6-year-old sons/David Cole, Coeur d'Alene Press. More here.
Thoughts?
---
---