Wed., Dec. 19, 2012, 9:15 a.m.
Shooting Debate: Where Was God?
What is to blame for the Connecticut school attack? In the wake of catastrophe, people want explanations, and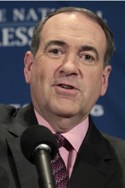 as news spread of the mass shootings at Sandy Hook Elementary School in Newtown, some religious conservatives were ready with an answer: the exclusion of God from public schools and the embrace of liberal social policies. Former Arkansas Gov. Mike Huckabee, pictured, who is ordained as a minister in the Southern Baptist Church, said Friday on Fox News that "we've systematically removed God from our schools." "Should we be so surprised that schools would become a place of carnage?" he asked. Huckabee's comments drew criticism from progressive religious leaders, who accused him of suggesting that God wasn't there with the 26 victims at Sandy Hook/M. Alex Johnson, NBC News via KHQ. More here.
Question: Where do you think God was during the Newtown massacre?
---
---