Thu., Dec. 20, 2012, 8:39 a.m.
Don't Expect Weapons Ban Soon
As President Barack Obama set up a task force to recommend ways to prevent tragedies like the mass murders in Newtown, Conn., a progressive group in Washington joined the call Wednesday for a new ban on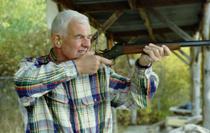 assault weapons. But anyone expecting quick, decisive action from Congress should realize the reluctance to discuss, let alone vote on, such a proposal is rooted in the last time one was passed and the election that followed. Anyone who doesn't believe a member of Congress could pay a price for supporting a ban wasn't in Washington state in 1994, when all eight Democrats in the House voted for the ban, and six lost their jobs. Among them was arguably the most powerful congressman of the time, House Speaker Tom Foley, who in short order went from 30 years of supporting and being supported by the National Rifle Association to being on the powerful lobbying organization's target list/Jim Camden, SR. More here. (1994 SR file photo of then House Speaker Tom Foley)
Question: Would you vote for a congressman who supported a ban on assault weapons?
---
---