Thu., Dec. 20, 2012, 8:43 a.m.
Snow Brings Crashes, Shut Schools
Drivers were slipping on slick and snowy roads this morning as weather forecasters predicted more snow on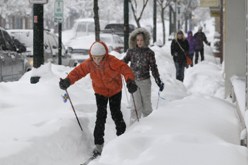 the way. The city of Spokane was reporting that crews are plowing to clear off arterials before more snow arrives and that streets are largely wet or slushy in the core. The weather closed and delayed operations at several school districts, including closing the Mary Walker School District in Springdale, the Christian Heritage School in Edwall and Palisades Christian Academy in Spokane. Garfield-Palouse and Inchelium school districts were running two hours late. Accidents were piling up around Spokane and North Idaho/SR, AP. More here. (SR file photo: During a 2008 snow storm, two Coeur d'Alene 12-year-olds ski down sidewalks along Sherman Avenue)
Question: If you were superintendent of schools, what conditions would have to exist for you to declare a snow day?
---
---