Fri., Dec. 21, 2012, 1:34 p.m.
Chief Allan Addresses 'Fiscal Cliff"
Following is an opinion piece by Chief Allan, leader of the Coeur d'Alene Indian Tribe, re: the fiscal cliff:
It's time to buckle down and address one of the biggest budget issues this country has faced in decades, the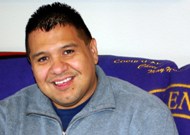 "fiscal cliff" – a series of expiring tax cuts and automatic spending cuts that are set to go into effect in January 2013 unless Congress acts. Both parties appear to be set in their ways. The "R's" want to preserve tax cuts for everyone, and cut spending to nearly all government programs. Across the aisle, the "D's" want to preserve tax cuts for all but the most wealthy and combine those tax cut expirations with smaller cuts to government programs. As with most difficult issues, most of us know the solution can be found somewhere in the middle. One common misconception people have is that Indians don't pay taxes, so you may be asking yourself, "Why does Chief or the Tribe care about taxes or the fiscal cliff?" More here.
Thoughts?
---
---