Fri., Dec. 21, 2012, 8:33 a.m.
DOTC: Lake City, Here I Come
DanOfTheCommunity: I'm doing double duty as caretaker for Twin Lakes Friends Camp as well as my new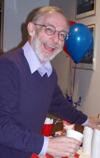 position as Executive Director of North Idaho CASA. So far the light duties of my outgoing role as camp caretaker hasn't had to rub too hard against my job at CASA. We are just closing on a home in Cd'A Place and will move into town in early March (although kind of a tough neighborhood—I understand Big Mike K. lives there in somebody's basement that has a Canadian Flag themed Christmas tree out front—hey, it's just what I heard). But this morning I was up at 0400 something to shovel a path to the detached garage so I could get to the snow blower so I could get out to the old camp plow truck and dig it out…and managed to only get it stuck once while plowing out our road.
Question:
---
---