Fri., Dec. 21, 2012, 8:28 a.m.
Obama To Nominate John Kerry
President Obama will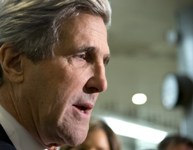 nominate John F. Kerry (pictured in AP photo), the five-term senator from Massachusetts, to replace Hillary Rodham Clinton as secretary of State, White House sources confirmed, choosing a longtime political ally who shares much of his foreign policy worldview and is likely to sail through confirmation hearings. Obama settled on the 2004 Democratic presidential nominee shortly after the wrenching withdrawal of Susan Rice, his envoy to the United Nations, as the top candidate for the post. He delayed the announcement to avoid interfering with national mourning over the mass slaying at an elementary school in Newtown, Conn/Los Angeles Times. More here.
Question: Will you support this nomination?
---
---