Fri., Dec. 21, 2012, 10:38 a.m.
Orzell: We'll Take Mayor Out In 2013
In the last week or so, Mayor Sandi Bloem referred to the attempt earlier this year to recall herself and three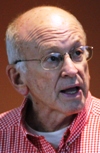 members of the City Council as a victory: once at the retirement event for Susan Weathers (retiring City Clerk) and again at her State of the City presentation at The Resort. What was not mentioned was the fact that there were more certified signatures in support of recall than were cast to put them into office in 2009. So, the victory was but a postponement while they continue to spend taxpayer dollars without regard for public opinion. Meanwhile, the election of November 2013 is approaching and the case for change is even more compelling/Frank Orzell, Coeur d'Alene Press letter to the editor. More here.
Question: Orzell (pictured), one of the organizers of the failed RecallCDA attempt earlier this year, seems to think that the replacement of Mayor Sandi Bloem and half the council in the 2013 election is a foregone conclusion. Do you?
---
---