Fri., Dec. 21, 2012, 10:13 a.m.
Stocks Sink After GOP Cancels Vote
Investors sent Washington a reminder Friday that Wall Street is a power player in talks to avoid the "fiscal cliff."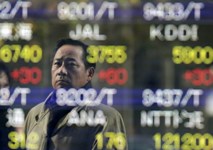 Stocks fell sharply after House Republicans called off a vote on tax rates and left federal budget talks in disarray 10 days before sweeping tax increases and government spending cuts take effect. Just after noon, the Dow Jones industrial average was down 168 points at 13,143, a decline of more than 1 percent. The Standard & Poor's 500 index was down 19 points at 1,424. The Nasdaq composite index fell 43 to 3,007. The House bill would have raised taxes on Americans making at least $1 million per year and locked in decade-old tax cuts for Americans making less. Taxes will rise for almost all Americans on Jan. 1 unless Congress acts/Associated Press. More here. (AP photo: Man checks stock market in Tokyo)
Thoughts?
---
---