Thu., Feb. 2, 2012, 2:32 p.m.
Labrador Calls For Holder To Quit
House Republicans accused Attorney General Eric Holder of hiding information at a Thursday hearing over the botched "Fast and Furious" gun-trafficking investigation. Holder dismissed a call by Rep. Raul Labrador,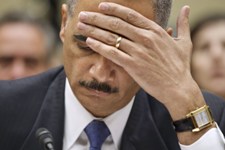 R-Idaho, for him to quit, saying he's not to blame for the scandal. Holder testified for four tense hours to the House Committee on Oversight and Government Affairs about "Fast and Furious." It was a botched operation in which the federal Bureau of Alcohol, Tobacco, Firearms and Explosives let illegal weapons flow across the border into Mexico and into hands of criminals as part of a failed sting operation meant to track the guns and nab drug lords. Some Republicans on the committee suggested that Holder was engaged in a cover-up and had been misleading Congress. "Because you have been grossly incompetent in the way that you have prepared before coming to Congress, I think you should resign," Labrador said/Sean Cockerham, Idaho Statesman. More here. (AP photo: Attorney General Eric Holder testifies Thursday)
Reaction?
---
---