Thu., Feb. 2, 2012, 8:44 a.m.
Phil Sees Shadow, More Winter Ahead
Pennsylvania's Punxsutawney Phil emerged from his lair to "see" his shadow on Thursday, in the process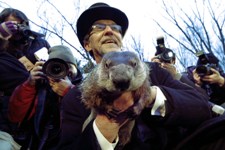 predicting six more weeks of winter. But, at this rate, that might not be so bad. The groundhog made his "prediction" on Gobbler's Knob, a tiny hill in the town for which he's named about 65 miles northeast of Pittsburgh. (See more on Punxsutawney Phil.) Temperatures were near freezing when he emerged at dawn — unseasonably warm — and were forecast to climb into the mid-40s in a winter that's brought little snow and only a few notably cold days to much of the East/Time U.S. More here. (AP photo)
Question: Ready for 6 more weeks of winter?
---
---