FRIDAY, FEB. 3, 2012, 11:27 A.M.
Hayden Woman Makes Medicaid Plea
Rebekah Casey of Hayden (pictured in Eye On Boise photo) was one of the individuals who testified about Medicaid cuts before the Idaho Legislature budget committee this morning (she's one pictured in Eye on Boise link). Betsy reports on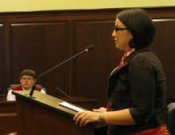 Rebekah's testimony: "My husband and I have adopted two children through the foster care system. My daughter has been receiving PSR services for almost two years now." The youngster struggles, she said. "Without the PSR services … we would not have been able to maintain her in our home." Over the summer, Casey said, her daughter suffered a crisis, and was unable to obtain additional psycho-social rehabilitation services due to the new 5-hour cap on such services for children. "Instead we were forced to consider medicating our 4-year-old daughter, when therapy services would have been sufficient," Casey told lawmakers. More here.
Question: Should the Idaho Legislature restore Medicaid cuts?
---
---