Fri., Feb. 3, 2012, 3:35 p.m.
Who Does Madonna Have To Top?
This Sunday, in the midst of the war of attrition that will be Super Bowl XLVI, Madonna will roll her ridiculously ornate stage onto the field at Lucas Oil Stadium in Indianapolis and attempt to blow some minds for eight or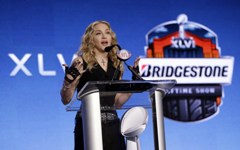 nine minutes. Madonna can certainly do it; she has the requisite deep catalog of hits, a theatrical approach to performing, and enough bold-faced numbers in her iPhone to unleash some surprises. "Give Me All Your Luvin'" probably won't get the job done on its own, though luckily she has "Vogue," "Holiday," "Ray of Light," and "Like a Prayer" in her pocket. So who will she have to eclipse to get mentioned in the greatest Super Bowl halftime performances of all time?/Kyle Anderson, Entertainment Weekly. More here. (AP photo: Madonna speaks during a news conference for NFL football's Super Bowl XLVI's halftime show Thursday)
Question: Which halftime Super Bowl show was the best ever?
---
---