Mon., Feb. 6, 2012, 1:02 p.m.
'Bucket List' Instigator Fine $1000
The Butte man who instigated a police chase just to see what it would be like found out: It cost him $1,000.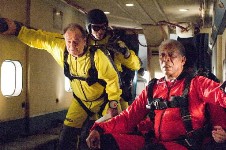 John C. Hughes, 55, pleaded guilty Thursday in Butte city court to misdemeanor reckless driving while eluding a peace officer. City Judge Dan Sweeney fined Hughes $1,000. Sweeney said the county attorney's office recommended only a fine and no jail time because Hughes has no criminal record. The strange case received national news media attention after Butte law enforcement reported a man purposely got police to chase - because it was something he always wanted to try/John Grant Emeigh/Butte Standard. More here. (AP/Warner Bros. photo: Jack Nicholson and Morgan Freeman prepare to skydive in a scene from the film "The Bucket List.")
Question: What's on your bucket list?
---
---