Mon., Feb. 6, 2012, 8:21 a.m.
Clark: Super Bowl Is All About Ads
Happy Super Bull Sunday. This is the day when the dark forces of merchandising pull out all the stops to hypnotize us with images of hot chicks, prancing Clydesdales and talking babies. Man, those talking babies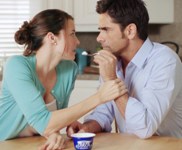 give me the creeps. Some of these super commercials will be hilarious, of course. A lot of them will be dumber than a box of socks. But every one of them will be designed to separate you and me from our hard-earned cash. Oh, yeah. There's some kind of football thing going on today, too. But selling stuff to suckers is the real game being played today. Even Madonna's halftime appearance is part of the National Undertakers Association campaign to promote the wonders of embalming/Doug Clark, SR. More here. (AP photo: This advertisement provided by Dannon Co,. shows a scene from the Dannon Oikos Greek Yogurt Super Bowl commercial, starring Jessica Blackmore and John Stamos)
Question: So, which Super Bowl commercial was your favorite?
---
---