Mon., Feb. 6, 2012, 9 a.m.
H95 To Get $57M Worth Of Work
A long-term effort to widen and improve U.S. Highway 95 north of Coeur d'Alene will take a major step forward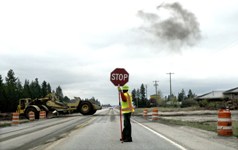 this year. Two important segments will undergo construction in the vicinity of Silverwood Theme Park and Athol. The Idaho Department of Transportation is planning to build three interchanges at Chilco Road, Bunco/Brunner Road serving Silverwood, and Athol. The $57 million worth of work should be completed in 2013 and make a highway that has seen steady traffic growth over the years safer. Traffic through Silverwood will be diverted onto a new frontage road east of the parking area, which is on the east side of U.S. 95./Mike Prager, SR Getting There. More here. (Kathy Plonka SR file photo shows a construction project widening a two-mile stretch of U.S. Highway 95 in Coeur d'Alene from Wyoming Avenue to state Highway 53 in April 2010)
Question: Have you ever had a close call on the Silverwood area stretch of Highway 95?
---
---