Mon., Feb. 6, 2012, 9:31 a.m.
Press: Romney's Faith No Big Deal
Because the faith of presidential candidate Mitt Romney is an issue, The Press has devoted many column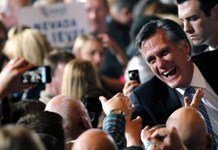 inches to debate and discussion of his faith, particularly compared to other beliefs. And we're prepared to devote a little more, although readers are increasingly telling us this topic has run its course and it's about time to turn back to issues rather than theological arguments. While some of you have very strong feelings about whether or not members of the Church of Jesus Christ of Latter-day Saints are actually Christians, our view is, why does that matter? When it comes to a presidential election, we're far less concerned with where a candidate spends his Sundays than what he does with the other six days of the week/Mike Patrick, Coeur d'Alene Press Editorial Board. More here. (AP photo: Mitt Romney greets supporters in Nevada Saturday)
Question: What's your biggest concern about Mitt Romney -- his faith, his wealth, his Republicanism, his stand on the issues? Or are you happy with his candidacy?
---
---