Tue., Feb. 7, 2012, 9:34 a.m.
Dike Road Removal Cost: $1.6M?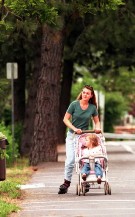 Taking a closer look at the impacts of the Corps of Engineers mandate to remove trees from the Rosenberry Drive dike, a local engineering firm was engaged by North Idaho College to review options for the City of Coeur d'Alene. In the review, the firm estimated that the costs of removing trees and roots, and then reconstructing the dike, would cost upwards of $1.6 million. The cost estimate was presented at a recent meeting of the ad hoc committee formed by the City of Coeur d'Alene regarding the dike road trees issue/Terry Harris, KEA, via Twitter. More here. (SR file photo of a mother rollerskating her then 3-year-old daughter on picturesque Dike Road on Lake Coeur d'Alene's north shore)
Reaction?
---
---