Tue., Feb. 7, 2012, 9:17 a.m.
Ed Corridor Zone Change On Agenda
Zoning on a roughly 7-acre parcel of land inside the education corridor could be changed to commercial tonight to match adjacent property and allow North Idaho College to one day expand its campus. The 6.79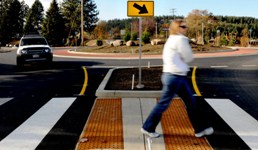 acres sit on an approximately 18-acre plot that formerly held a saw mill, near the city's wastewater treatment plant. It's currently zoned for light manufacturing and Commercial-17 Light. A change to C-17 zoning would allow more uses on the land, such as commercial, residential and civic facilities, which light manufacturing prohibits, according to John Mueller, landscape architect representing NIC. "It allows the college and university uses to happen," he said. "C-17 really encompasses a lot of different uses, including university and higher education." If the Coeur d'Alene City Council approves the request, it would conform zoning to adjacent parcels/Tom Hasslinger, Coeur d'Alene Press. More here. (SR file photo: Getting around near North Idaho College goteasier on Tuesday after completion of an education corridor infrastructure project)
Question: Do you support the zone change for the Education Corridor?
---
---