Tue., Feb. 7, 2012, 3:44 p.m.
Romney, Gingrich Decry Prop 8 Ruling
Republican presidential candidates Mitt Romney and Newt Gingrich on Tuesday decried the Ninth Circuit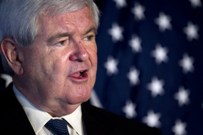 Court of Appeals for striking down California's Proposition 8, which banned same-sex marriage -- both of them targeting the judiciary system for invoking what Gingrich described as a "radical overreach" of power.
Prop. 8 was a California ballot measure passed in 2008 that amended the state's constitution to make same-sex marriage illegal. (The California Supreme Court had ruled in 2008 that same-sex couples legally had the right to marry)/CBS News. More here. (AP photo)
Reaction?
---
---