Tue., Feb. 7, 2012, 8:27 a.m.
Santorum Looking Good Tonight
As the Republican candidates play out their presidential nominating bids in three states on Tuesday, predictions are mounting that Rick Santorum (pictured) will have a good night after pulling ahead in Midwestern polling.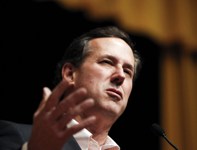 But Mitt Romney still has the line on Colorado, which like Minnesota, is holding caucuses on Tuesday night that won't commit delegates but should provide some insight into the trajectory of the candidates. Missouri is holding a non-binding primary that sets up the standings for the delegate-awarding caucuses in a month from now. According to Public Policy Polling, a Democratic firm, Santorum is leading in Minnesota, 33 percent to 24 percent for Romney. Newt Gingrich is at 22 percent and Ron Paul is at 20 percent/Fox News. More here. (AP photo)
Question: Is it healthy for the Republicans that the primary race continue on as long as possible?
---
---