Wed., Feb. 8, 2012, 1:41 p.m.
Bill Sali Wants Specialty Plate, Too
Former Idaho Congressman Bill Sali persuaded an Idaho House committee today to introduce a bill to fund his new nonprofit organization, the "American Heritage Foundation," through a new specialty license plate that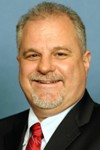 would bear the motto "In God We Trust." The foundation, which Sali and his wife Terry formed on Jan. 25, will work to educate the public about "foundational principles and history of the United States," the bill says. He said it'll do things like give away copies of the Constitution. Under the bill, the additional fees for the plate of $35 up-front and then $25 per year would go to the Idaho foundation, except for $13 from each that would go to the state highway account. Rep. Phil Hart, R-Athol, moved to introduce Sali's bill, and Rep. Linden Bateman, R-Idaho Falls, spoke out in favor of it/Betsy Russell, SR. More here.
Question: What do you make of the proliferation of specialty plates in Idaho?
---
---