WEDNESDAY, FEB. 8, 2012, 8:17 A.M.
Boy Scout Camp Vote Still On Table
A decision on whether to pursue a land swap that will give up a historic Boy Scout camp will be made in the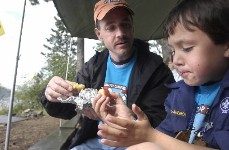 next two weeks, according to a scout official, though it might not be as ironclad as some would prefer. The Inland Northwest Council of Boy Scouts will have two board votes in upcoming weeks, said Scout Executive Tim McCandless. The INC executive and foundation boards will only vote on whether to pursue a purchase of sale agreement with developer Discovery Land Company, McCandless said, which has offered to build a new and improved camp at Sunup Bay on Lake Coeur d'Alene, in exchange for the Camp Easton property further north/Alecia Warren, Coeur d'Alene Press. More here. (Jesse Tinsley SR file photo: A Nine Mile Falls Cub Scout and his father eat stuff apples they baked in a fire at Camp Easton)
Question: Have you ever participated in an event at Camp Easton?
---
---