Thu., Feb. 9, 2012, 8:28 a.m.
More Jobs For Women In Combat?
Pentagon rules are catching up a bit with reality after a decade when women in the U.S. military have served, fought and died on the battlefields of Iraq and Afghanistan. Today, the Pentagon is recommending to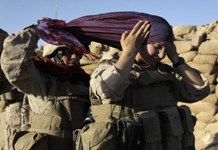 Congress that women be allowed to serve in more jobs closer to the front lines. The change would open up about 14,000 additional jobs to women. According to defense officials, the new rules are expected to continue the long-held prohibition that prevents women from serving as infantry, armor and special operations forces. But they will formally allow women to serve in other jobs at the battalion level, which until now had been considered too close to combat/Associated Press. More here. (AP file photo: U.S. Marine Sgt. Monica Perez, of San Diego, left, helps Lance Cpl. Mary Shloss of Hammond, Ind., put on her head scarf before heading out on a patrol in Afghanistan)
Question: Do you support increased exposure of women in the U.S. military in combat roles?
---
---