Fri., Feb. 10, 2012, 1:39 p.m.
Hoffman Tackles Richert On Medicaid
I haven't gotten any feedback from Gov. Butch Otter's office on my previous blog post (and Saturday column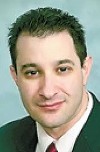 preview), taking the governor to task for refusing to reverse $35 million in cuts to Medicaid programs. But Wayne Hoffman of the Idaho Freedom Foundation was quick to take me to task. In this response, he takes me to task — and says there is nothing "compassionate" about perpetuating social programs such as Medicaid. Hoffman is nice about it, though, I suppose. "Hopefully, with a lot of education and a little love, Kevin will learn something useful." Yup. I feel the love already/Kevin Richert, Idaho Statesman. Wayne Hoffman's response here.
Question: Hoffman makes a good point that federal entitlement money comes from a national treasury that's in a $15 trillion hole and growing. And that there's nothing compassionate about entitlements that make us more dependent on the federal government. What do you think?
---
---