Fri., Feb. 10, 2012, 8:53 a.m.
Tribune: In Sali We Trust
JEERS ... to former Congressman Bill Sali, R-Idaho (pictured). For sheer audacity, Sali has few rivals. On Wednesday,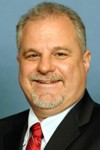 he cornered the market on God. Sali walked into the House Transportation Committee and asked the state to create, finance and market a new vanity license plate with the motto "In God We Trust." He wants $22 from each $35 plate and $12 from each renewal sold allocated to a nonproft group he formed two weeks ago. Joining Sali on the board of American Heritage Foundation are his wife, Terry, and his nephew, Travis Pascoe of Nampa. With the money, Sali promises to educate the public about "foundational principles and history of the United States"/Marty Trillhaase, Lewiston Tribune. More here.
Question: Who would buy a vanity plate to fund Sali's foundation, other than Sali, his wife, and his nephew?
---
---