Fri., Feb. 10, 2012, 8:41 a.m.
Woman: Spokane Prostitutes Ugly
A group of traveling prostitutes suspected of settling in Spokane told police they were making good money here because the local competition is so ugly. One woman is in custody and other arrests are possible as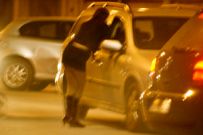 part of an ongoing investigation into a 36-year-old California man who investigators believe has been brokering sex deals while living out of motels in Portland, Seattle and Spokane. Two motel rooms in Spokane were searched this week. Shaquisha L. Jenkins, 22, was arrested on a misdemeanor prostitution charge Tuesday. ... A Spokane police officer contacted Jenkins and an 18-year-old woman on East Sprague Avenue on Jan. 31 and was told "that because there is a lack of attractive prostitutes in the area, they are able to make fairly good money," according to court documents/Meghann Cuniff, SR. More here. (Wikipedia photo for illustrative purposes)
Question: Given that Spokane boosters sometimes fumble around for a slogan that befits the community ... can you think of anything that can be used from this story?
---
---