Blue Heeler Rejected As State Dog
Idaho lawmakers have voted down a bill to declare the blue heeler the official state dog. Rep. JoAn Wood,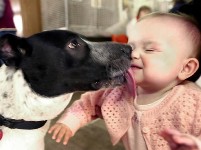 R-Rigby, proposed the bill, but the House State Affairs Committee this morning rejected it on an 8-11 vote. "I'm bringing to you a piece of legislation this family had brought to me and have asked for several years that we take a look at," Wood told the panel, introducing a constituent who gave an impassioned pitch for the blue heeler, noting its merits and that "the blue heeler is a common fixture of Idaho ranches, where it is said that one such dog will do the work of three cowhands"/Betsy Russell, Eye On Boise. More here. (AP file photo: A blue heeler gives a 1-year-old baby a face wash at Bannock County Humane Society adoption day)
Question: Which breed do you think should be the state dog of Idaho?
---
---