Mon., Feb. 13, 2012, 9:06 a.m.
Hedberg: Computers Make Me Crazy
One morning last week I turned on my computer and at first everything looked fine, but within a few minutes I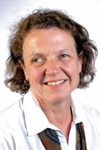 could tell it wasn't. My mouse wouldn't work. And then the computer, which has been suffering lately from some form of narcolepsy, konked out and I couldn't revive it. So I called the computer guy and he came right over. I think he has me tagged on his caller ID read-out as "high-maintenance customer" because whenever I call it's like a summons for an ambulance."HELP ME. I CAN'T GET THIS DARNED COMPUTER TO WORK AND ALL MY STORIES ARE STUCK AND I NEED TO CHECK MY EMAIL," I screech in that panic-stricken tone I use whenever an inconvenience strikes. ... But I will say this in my defense: I never used to behave this way when I used a plain old typewriter and paper/Kathy Hedberg, Lewiston Tribune. More here.
Question: Are you more impatient today as a result of being exposed too long to the quirks of home computers?
---
---