Mon., Feb. 13, 2012, 8:24 a.m.
Hucks: Paranoia Strikes Deep
You may think the Property Rights Council birthed by Chairman Cornel Rasor and fellow commissioners is simply a strange extension of Bonner County government. But Right Side News online considers the council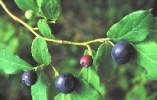 to be a "major new weapon in the fight against the UN." Yeah, U.N., as in United Nations. (Remember that line from "For What It's Worth" by Buffalo Springfield? "Paranoia strikes deep, into your life it will creep.") Right Side News explains the purpose of the council: "The mission of the PRC is to review county government activities and inter-governmental activities to determine whether the activities may cause adverse impact to private property rights. The PRC then is charged with supplying to county officials an opinion on that impact." With tea party queenpin Pam Stout on the county payroll to oversee the council, you can bet those opinions come from the extreme right precincts of North Idaho's political rabbit hole/DFO, SR Sunday Huckleberries. More here.
Question: Does Kootenai County need a Property Rights Council?
---
---