In Idaho, It's Still Man & Wife
Jon Downing thinks maybe he'll get married in two decades. Not because the 29-year-old necessarily wants to wait. But that's when he suspects it will finally be legal for him to do so in Idaho. "I'm hoping two years out,"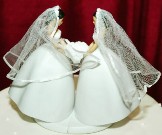 said Downing, a Coeur d'Alene resident open to admitting he is gay, even when he expects a variety of reactions. "But the reality is it's probably going to take a little bit longer to change people's hearts and minds." There are signs to indicate it's already happening, with same-sex marriage legislation whipping through the Washington Legislature and gaining approval on Wednesday, the day after the U.S. 9th Circuit Court of Appeals struck down California's Proposition 8 outlawing gay marriage. Idaho following soon might be a tall order/Alecia Warren, Coeur d'Alene Press. More here. (AP file photo of a same-sex cake decoration in New York City)
Question: Do you think Idaho will legalize gay marriage in the next decade?
---
---