Mon., Feb. 13, 2012, 1:06 p.m.
Otter Offers 150 Wolves To Oregon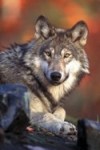 Idaho Gov. C.L. "Butch" Otter has offered to send Oregon Gov. John Kitzhaber 150 wolves, saying his own state has a few of the predators to spare. Monday's offer came in a tongue-in-cheek letter where Otter sarcastically apologized to Kitzhaber after an Idaho hunter killed a wolf from an Oregon pack that strayed across Idaho's border to the east. On Feb. 2, the Idaho hunter killed a brother of an Oregon wolf that became a celebrity by wandering hundreds of miles into Northern California seeking a mate/AP. More here.
Question: Do you wish Idaho really could send Oregon 150 wolves?
---
---