Mon., Feb. 13, 2012, 8:53 a.m.
Turning 21: Downtown Bars To Avoid
If you're looking for a night out on the town, or just a mere drink with friends, I would not recommend going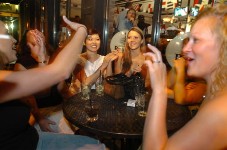 anywhere near three particular bars in downtown Coeur d'Alene. I recently turned 21, and for as long as I can remember I have been counting down the days until I could go out and have a drink with friends. I dreamed that when that day came, it would be one of the greatest days ever. I've come to find it was nothing that I had expected it to be, and not in a good way. During my birthday week my friends and I explored many bars throughout the Coeur d'Alene, Post Falls and Spokane area. Each of them differed in entertainment, drinks and, of course, prices. The Beacon, Splash, and ICON seemed to be the worst/Nick Dimico, North Idaho College Sentinel. More here. (SR file photo: Young women hanging out in front of the Beacon in downtown Coeur d'Alene) H/T: SamC
Question: Which Downtown Coeur d'Alene bars would you recommend? Which would you avoid at all costs?
---
---