Wed., Feb. 15, 2012, 8:48 a.m.
Buell To Run Again, McCall Unsure
Will the long-serving county commissioner duo of Jack Buell and Bud McCall be broken by departure?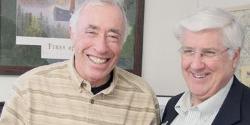 Followers of the Benewah County Commissioners pondered the question last week following a statement by Mr. McCall indicating he was unsure whether he would seek re-election. The two have served together 36 years, since Mr. McCall's election in 1976. Mr. Buell first won election in 1974. Mr. Buell left no doubt about his plans to stay on. "Why not," he said. "I think Bud and I can both help people and we have. With budget cuts goals are going to be hard to meet. We are just going to have to figure out how to survive." Mr. McCall expressed ambivalence saying that he might retire/Mary Orr, St. Maries Gazette Record. More here. (Gazette photo: Jack Buell, left, and state Rep. Dick Harwood in 2010)
Question: Has the commissioner tandem of Jack Buell and Bud McCall been good for Benewah County?
---
---